Day Two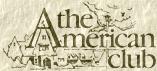 We of course slept in today until 9 am! Whoopee! No kids waking us up at 7 am!! Is this a dream or what? :) With the DVC package you get free breakfasts in the Wisconsin Room so we headed down for some food. they had a HUGE buffet or you could also order off the menu. We both ordered off the menu. Mike had a huge omelet and I had two eggs over easy. Of course they came with the usual fare. It was all SO good!! They also had fresh squeezed OJ--it was marvelous (can you tell I don't squeeze at home?). I did notice on the buffet when we were trying to decide which way to order that they had salmon??? I never heard of morning fish! They had it displayed as a whole fish on a huge cutting board fish and you could just come up and take what you wanted off the poor thing! Maybe this is something that the rich and famous have for breakfest-I certainly do not know!!!:)
After going back to the room for a little while we decided to go over to the Sportscore and do some fitness. They were calling for bad storms but so far it was sunny. When we walked outside it just about keeled us over--the heat!!! It was steamy HOT! I have never been in Florida when it was that hot!! They do have red van's that will take you anywhere in the area of the village of Kohler. We took one to the Sportscore as it was too hot to walk. The sportscore is a fitness place (big place) for the American club and I think the employees of Kohler. You get a free pass to it by staying at the American Club. Its about three blocks away. this place is huge, they have about 7 indoor tennis courts, 5 racquetball courts, an exercise studio, two pools, one for lap swimming and one for families, a beach outside on a little lake in the back, a restaurant, a couple nature trails, a vita course. Just about everything!! When we walked in to the sportscore it was about 95 degrees with humidity. The first thing we wanted to do was check out the nature trail so we got lockers and headed for the trail. There was a little bridge built over a stream running off the back side of the place so we took that. They had three different length walks we took the long one. This one went around the lake. It was still hot but shaded so that was not too bad. We saw maybe a gopher type animal (a couple) doing what gophers do--scurrying around in the woods. As we walked the wind picked up and it got a little cloudy. We were rather hot when we got done so we decided to check out the family pool. The ladies locker was unreal, big lockers, a steam room, a message room, a sitting/room type area with blow dryers, and the showers all had these body spray heads coming all the way down the wall so when you were in the shower you could get a messaging type action all the way down your body! They even had shampoo and conditioner right in the shower area for you and a body soap. Cool! Hope I don't sound too naive but this was neat to me. I also noticed a machine that would spin dry your suit for you after you got out of the pool! They even dispensed a bag for you!
The pool was great, we sat and relaxed and then swam and relaxed. We also watched the dark clouds come in.(Half the roof is glass) We decided that if we were to hit the sidewalk sales we should get going. We both got ready (I could have stayed in that shower all day!) and met up at the counter to return our keys and towels. We went to take some pics of the pool from above and overheard a gentlemen on the phone saying that the temperature in one half hour had changed by about 20 degrees! When we left is was 75 degrees!! Unreal. I guess Milwaukee got hit pretty hard with bad storms about that time, Milwaukee is about 1 hour south from there. Anyways, we called for a ride and took the red van over to the shopping area. Went in to the market as I wanted to pick up some loaf's of sour dough bread. While we were in there it started to pour outside. Lucky we just walked under the walkway connecting the stores. They had some great buys, Mike picked up some 65.00 American Club shirts for 10.00!! I thought I had found one too but when I got home I see it was a child's size large!! Oh well! We bought a fee gifts for some people at home who helped make the trip possible, found a b-day gift for myself, a handbag with cats stitched all over it on sale for 30.00. Made Mike happy as his shopping for my b-day was done! By then we were tuckered out so we called for another van (you can call from any shop there for a ride). We went back to the room and relaxed!
We then thought we should take a van and go see "the Waelderhaus". A little history: Situated on a high Bluff overlooking the winding Sheyboygan River, The Waelderhaus stands in austere grandeur as a tribute to the tradition of Bregenzerwald ("forest of Bregenz"), province of Vorarlberg, Austria. It faithfully reproduces the architecture of the buildings peculiar to this Alpine area, and stands as a museum of minute detail in the perfect marriage of artistry and superb craftsmanship. It was from the Bregenzerwald village of Schoppernau, that John Michael Kohler, who founded the Kohler Co. in 1873 came as a boy of ten years. It is to his memory that his daughter, Marie Christine Kohler, dedicated the building when she presented it to Kohler Village in 1931.
The place was very pretty like something out of Hansel and Grettal. This building is also called home of the girl scouts as Marie Kohler started the first Girl Scout movement in the area and incorporated it in the building. The talented sculptor and architect from Munich, Kasper Albrecht helped design the building while implementing the girl scout theme.
After resting for awhile I called my suitemate from collage (NMU). She and her husband live in Sheyboygan Falls and we had planned to get together. They came to the Hotel and picked us up. They took us into Sheyboygan to a steak house called Rupps. It was great! I had ribs along with my friend, they were great!! We had fun talking about our crazy college life! It was really nice catching up. After dinner they showed us there home and then wanted to take us to a antique race car show at Elkhart Lake. We got there a little late but most of the cars were still sitting out. They also auction off antique cars here. They told us that one year Tom Cruise came to the show while staying at the American Club (before Nicole Kidman was in his life) and got kicked out of the American Club for being rowdy and destroying property and asked not to return! I guess Elkhart Lake has a race track and this event also has the antique cars racing around the track. On year Paul Newman was there, a couple years ago Tim Allen man was there. We saw Herb Kohler III biding on a 1942 Rolls Royce. We was just standing there after they turned down all the lights and jotting down a figure on his bid card (he must come out after the crowds leave!) I guess he has a collection of cars, just another toy for him! We then went to listen to a band play behind a Bed & Breakfast and had a drink for awhile. (they had a bar set up on the curb of the road!!!!) The place that this was held at was a huge Condo/Hotel area on a man made lake. Looked very nice. We got tired of being bit up by mosquitos so we headed back. They dropped us off of the Hotel and we were beat, we both took turns laying in the hot tub and went to bed. I forgot to mention that they have a turn down service and leave a cute little mint on your pillow at night. They also have a complimentary sheet of the next days activities on your pillow. Nice personal service!! On to pics for the day!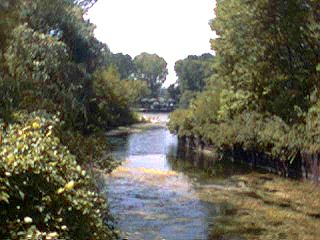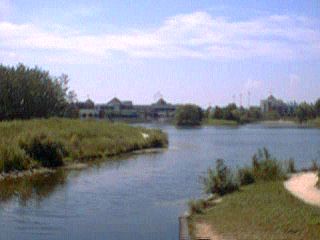 Lake views during our walk!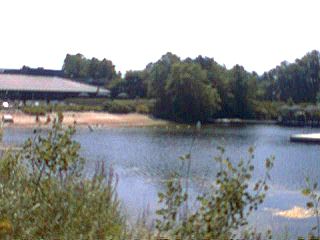 On the trail looking back at the beach area of
Sportscore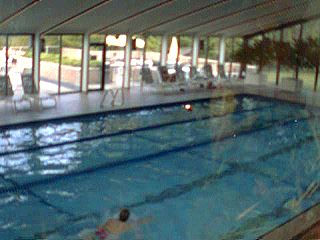 The family pool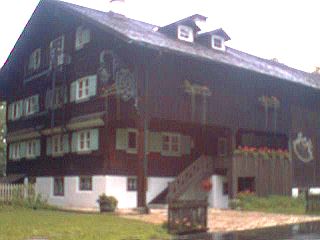 "The Waelderhuas"

On to Day Three!