Day Three-&-Final Thoughts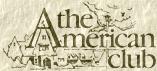 Our final day. We had to get up early early today as the very next day I had to head downstate Michigan for my uncle's funeral. We were up at 6 am, got ready and went to breakfast. We both had the buffet this morning to save time. They had an omelet chef today as part of the buffet so Mike had another omelet which he said was very good. I had a variety of fare that was all very good,including a couple glass's of the fresh squeezed juice!! We went back to pack up our last minute things and check our bill on the TV, our room tax and dinner was on there along with a few purchases from shopping the day before. I forgot to add they give you a charge card you can use just about anywhere for charging to your room ( and yes-all your charges you can check with the remote on the TV-very cool!!) It was about 8:30am when we checked out, we had valet parking (they have an underground parking area) so we had our van brought around and we were off. Had a nice 4 hour ride home.
Final Thoughts
We really liked this place. It was a quant little gem in the middle of nowhere. We would like to come back again next summer and plan it around the Elkhart Lake activities. That was alot of fun. It is also great to see my college suitemate while down there! I would recommend this place to anyone! The food and atmosphere were terrific! I would not have changed anything, maybe a better room location would be nice, but not imperative. I also wanted to mention that this place has their own floral shop on grounds. Every Day there was new HUGE flower arrangements everywhere. I stopped and asked at the concierge because they were that beautiful
Oh--forgot to mention the basement level. This is where they have over 21,000 square feet of conference meeting place's!!! You should have seen it!! Gleaming chandeliers, shiny marble floors! Every day they had a long list of conference's going on. We saw a wedding reception going on in one area! It was like a small city down there!! We snooped around the first night and I took a picture of the chandeliers. My girlfriend jokes that you have to go in all the bathrooms here as they are all different and done with Kohler sinks and what not, down here they had the floral sinks that I had taken of picture of the next day! It is nice that it is in the basement and you never see the conference goer's as the main Hotel is upstairs. At the Grand Hotel on Mackinac Island you run into the conference goer's as they all stand around the second floor area and you have to walk through all of them to get to the dining room.
I should also mention the golf courses here for you Golfers. The Blackwolf Run is two 18-hole Pete Dye-designed gold courses. In 1994, Golf Digest voted the River Course the #4 public course in the U.S. Their is also Meadow Valley. They have some big tourneys here for the big shots. We, not being golfers did not check it out.
There is also a place called River Wildlife. A private 500 acre wilderness preserve. Seasonal activities include fishing, trap shooting, hiking, horseback riding and cross-country skiing. (Guest pass is required) We did not have time to do this but want to next summer!
I hope you enjoyed reading my trip report! Last of the pics: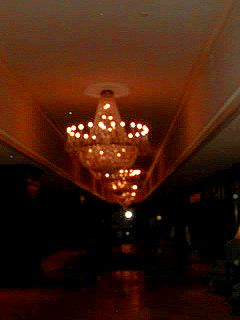 Turned out a little dark but it was actually bright down in the basement. This is the conference area. The chandeliers were huge!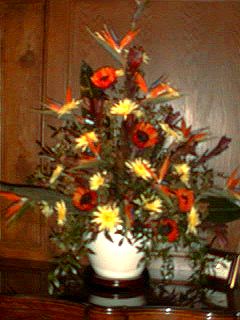 This was my personal favorite. The birds of paradise looked fake they were so perfect!