The American Club
Kohler, Wi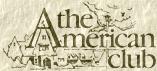 We had a great time at The American Club in Kohler, Wi. Below I have included some history of the place that is furnished in all the rooms. The rooms all honor a past American who left an impression on America. We had the Tom Thumb room. Each room has a picture of the person it represents. We thought this was a nice touch. Please enjoy our report!
History
Walter J. Kohler, Sr., founded his namesake city in 1917 when he decided that nearby Sheboygan didn't offer the right environment for his new plumbing manufacturing plant. The village, built to Kohler's specifications, included shops, homes, recreational facilities and The American Club, a luxurious Tudor-style mansion to house his new factory's immigrant workers. Later, The American Club would host several celebrities in the ensuing decades, including Mary Martin and Admiral Richard Byrd. The site was evan added to the National Register of Historic Places in 1978.
The American Club as it is known today is largely the vision of Herbert V. Kohler, Jr., grandson of the original founder. In the late 1970's, Herbert decided to reinvent The American Club as a luxury resort, while paying homage to the workers for whom the building was originally designed. Additional wings were added, but each was built in a red-brick Tudor style designed to blend with the original structure. The results of this refurbishment helped the inn achieve the highly respected "5-Diamond" Award from the American Automobile Association. While its days of housing newly arrived immigrants have long since passed, The American Club is still committed to offering its guests the finest in lodging, meals and hospitality.
Tidbits about the hotel:
236 rooms
"5-Diamond" Rating from AAA since 1986
Member of "Historic Hotels of America"
Listed on the National Register of Historic Places
Public areas are appointed with hardwood paneling, chandeliers and museum-quality furnishings
Over 21,000 square feet of conference meeting space
Hotel amenities:
Guest rooms are individually decorated and feature state-of-the-art Kohler whirlpool tubs and bath fixtures
Select rooms decorated with Baker and McGuire Furnishings
Complimentary morning paper
Turn-down service
Daily afternoon tea in the Library
Complimentary shuttle service to major attractions around Kohler
Cable television
Baby-sitting service available for a nominal fee