Day One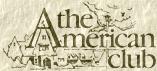 We dropped the kids off at Mike's Mom & Dad's house at about 9 am and were on our way. We figured we had about a 4 hour drive to get there. The day was warm and lots of sunshine. We stopped in Escanaba for breakfast at a Country Kitchen. That was really good. There is a time change going to Wi so we changed our watches back one hour. I drove to Green Bay and Mike drove the rest of the way. A real easy drive down. We pulled into The American Club about 2pm Wi time. We checked in and our room was ready. As a DVC'er they just give you the standard room, I think you can upgrade to a fancier room for a fee.
The room was nice! Small but clean. We requested a refrigerator ( I needed a place to keep my morning coffee-Diet Coke!) One side of the room was all windows, half the view was of the side of the brick building that abutted up to it. We could just see a little of the courtyard below. The walls were all paneled in medium oak. The TV was the most advanced I have ever seen, you could check out from your room if you wanted with this little remote type thing or play Nintendo games from it! The bathroom had all Kohler appliances of course. Our tub was just a regular one sealer hot tub, but nice none the less. We had a basket of amenities, soaps, lotion, glycerin soap, razor, shower cap, shampoo and conditioner, sewing kit. I also had forgotten my toothbrush and paste at home so they gave me one of each complimentary!
We unpacked and decided to go down to the Lake of Kohler shopping area. We walked, and it was hot!!! The village is real nice, lots of different stores and a really neat grocery store with odd & ends from all over the world. We found out that they were having their sidewalk sales the next day so we did not purchase anything. We then went back towards the Club and stopped at the Kohler Design center, what a place!! I had not wanted to so this because I imagined it being a bunch of toilets and equipment, but it was not!!! They had two floors of all there top of the line items, neat little bathrooms all decorated in themes. I even found a couple Mickey sinks!!! Of course I had to take pics of that!! Really glad we went, we also sat through a little movie downstairs about the history of Kohler and the American Club.
Back at our room we relaxed and then got ready to eat. There are three restaurants here, one is expensive-The Immigrant (all food items are unpriced on the menu!) The Wisconsin Room is where we ate, and is less informal then the first, and then there is the Plow & Hearth, a bar like atmosphere. There is also a coffee bar in the courtyard in a green house they imported piece by piece from England!! We dressed up for our dinner and headed down. The food was not to badly priced we thought and the food was excellent, Mike said it was the best steak he has ever had! I had a chicken dish that was to die for!! We indulged in dessert and got them for free as I guess she thought she had taken so long to bring us dessert (we did not think so and was surprised she said it was on them!) of course we accepted! We then went to the courtyards to explore. The courtyards are very pretty, with trees, flowers and each one has a name or theme. We sat by a fountain on a swing and relaxed! It had been such a great day! Below are pictures--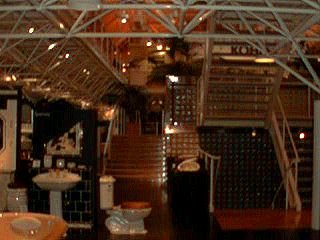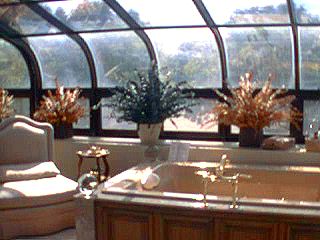 Design Center -------------------------------------- One arrangement of a display!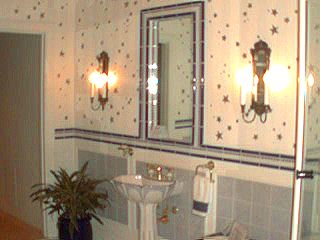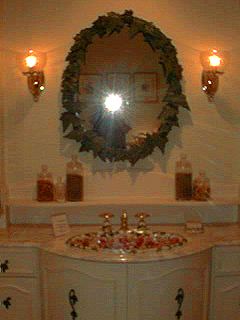 More bathrooms! -----------------------------------------Look at this sink!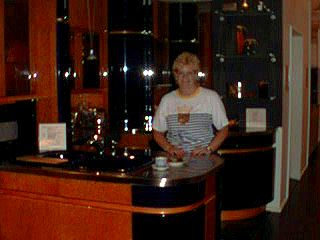 Me wishing I had a kitchen like that!!--------------Only 1,000.00 dollars for this one!!!!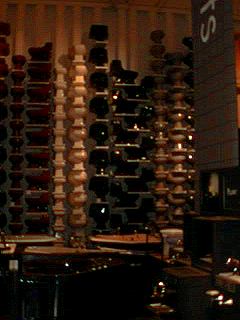 Toilets stalked to the two story ceiling!!
and least but not last----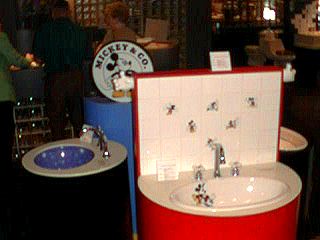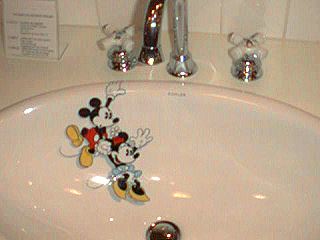 My personal favorites!!!